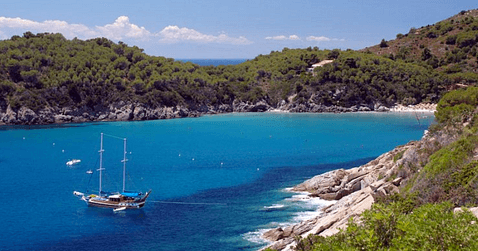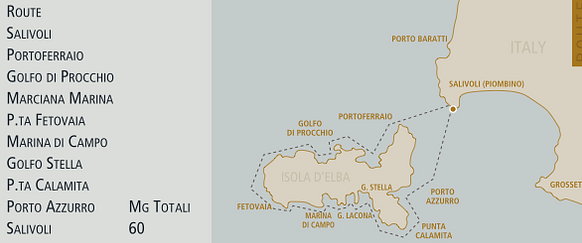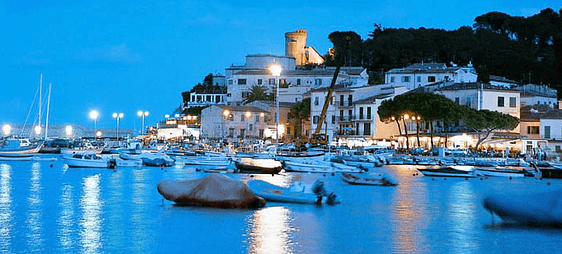 With a week available one can easily sail right round Elba and find time to take in the natural beauty of the flora and fauna to be found there, the island is midway geologically between mainland Italy and Sardinia. From one mooring to another you will have to possibility to cruise in some of the clearest water in the Mediterranean with sunken forests of red coral and Poseidon, where you will see an abundance of marine life.
Steering north, the first stop would be Portoferraio, a small town created by the Medici family and noted for its threes forts linked by a long line of ramparts.
Here they have recently restored the medieval port of Darsena Medicea, inside which is the Calata Mazzini, the left-hand side being reserved for cruising yachts.
Do not miss out on a walk through the town where you can discover traces of Napoleon's life on the island.
The northern coast has a large inlet made up of three famous bays: Enfola, La Biodola e Procchio, which are traditional seaside spots.
Just after the western most point lies the port of Marciana Marina, a fascinanting and characteristic Elban village which could not be without it's own Saracen Tower, overlooked by Monte Capanne, the highest on the island.
From here there is a delightful 10 mile sail, with Corsica in your sights, to the southern side in Marina di Campo, but please do not fail to have a swim in the bay of Fetovaia on the way!
From Marina di Campo it's also possible to take weekly cruises to the island of Pianosa, formally a penal colony, but now part of the Marine Park where you may visit the Roman catacombs and, if lucky, catch a sight of a few turtles swimming nearby.